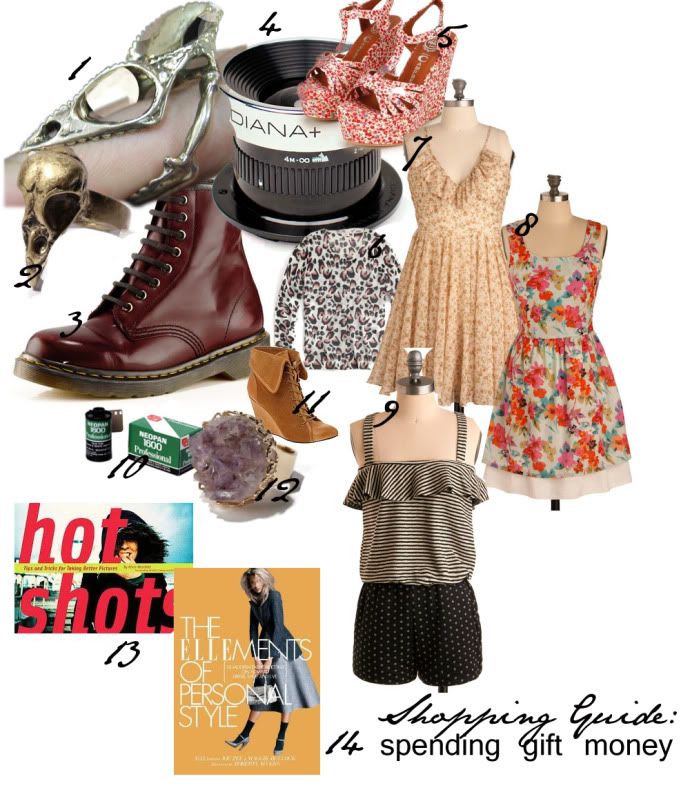 1. Lizard skull ring, $83:
Etsy
4. Diana lens for dSLR cameras, $60:
Photojojo
5. Jeffrey Campbell floral wedges, $80:
Modcloth
7. Cucumber Sandwiches dress,$80 :
Modcloth
8. Blooming Brush Strokes dress, $65:
Modcloth
11. Leather Chloe inspired wedges,$55 :
ASOS
14. The Ellements of Personal Style,$25 :
Amazon
It is an all too familiar scene. The wrapping paper is strewn about, the hot chocolate mustaches have been wiped away, and the kids are already glued to the latest electronic gadget that Santa brought. However, what are those who received cash (or giftcards, or checks, or etc.) to do in order to feel the rush of getting new things?
If you are anything like me, you spend it.