1.
Teen Vogue
, 2.
J. Crew men's looks
3.
Madewell
4.
Zappos
I have found that I have a certain admiration for men's dress. My body type is esesntially that of a twelve year old boy, so I do not mind eschewing that "buxom babe" look in favor for a more practical, preppy style. Although I'm certain any admirers might not find this side of my sartorial interests particularly appealing, I just can't stay away from the dude-inspired duds.
From saddle shoes (like those from Bass, pictured to the right, which I received for Christmas) to oxfords and ties, all I seem to be drawn to on shopping trips lately are menswear inspired pieces. Although I love the lovely, lacy, ladylike styles as well, my inner tomboy tends to be screaming the loudest during these colder months.
My style has become a mash up of my two favorite looks: preppy boy and romantic girl. It seems that my two sides would make the perfect couple (especially style wise).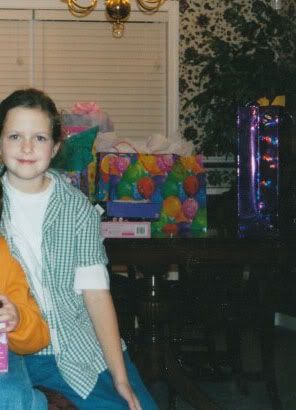 Of course, I had a tomboy phase like many girls around age 8. Although I didn't outgrow mine until about age 11, I assured my mother and other concerned parents that it was "just a phase". My days of refusing to say or touch the color pink may be over, but my inclination for more sophisticated boy's clothing has just begun.
(To the left: me in my awkward years, posing in one of my favorite button up shirts. I might not rock the short sleeved button ups now, but the emphasis is on the lack of girlyness.)